<![if !IE 6]>

<![endif]>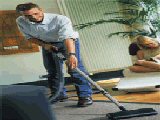 <![if !IE 6]>

<![endif]> <![if !IE 6]>

Why CVC?

Central Vacuum Cleaners direct from the Elek-Trends factory, manufacturers of top quality central vacuum systems for 30 years.

Why Direct?

Without a costly marketing organisation to support, we can bring you a superior product at affordable prices.

Why every home should have one:

With a built in vacuum cleaner all the dust is completely removed from the room and can't be re-circulated - so you don't have to vacuum as often.

It's so quiet - you can even carry on a telephone conversation at the same time.

It's very light and easy to use.

It's a must for anyone suffering from asthma, eczema, and other allergies.

It's far more powerful than an ordinary vacuum cleaner...

Which makes it more efficient...

And so it saves you time.

ADVANTAGES

A CVC is MORE POWERFUL

With an ordinary vacuum cleaner, you have to carry the electric motor and suction fan with you when cleaning. With a central vacuum system, the motor and fan are fixed in a remote position, which means you can have a more powerful motor with a bigger fan, producing much more suction. More suction equals more penetrating cleaning so you can clean more floor in less time.

Nationwide,

(

More Cleaning Nationwide

)

Phone: + 08000830431

CVC Direct


<![if !IE 6]>

<![if !IE 6]>

First Page

Previous
Next

Last Page